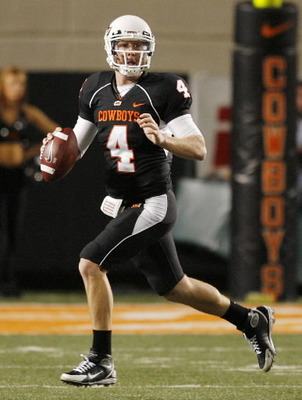 Scouting Report: Brandon Weeden – QB – Oklahoma St.
2009:

248 yards, 62.5 comp %,

10.33 ypa,

4 TD,

1 INT
2010:

4277

yards,

66.9

comp %,

8.37

ypa,

34 TD, 13 INT
Strengths:
Physically it is all there. Proto-typical height and weight of an NFL signal caller.

He spent 5 seasons in the minor leagues as a top prospect who garnered the full attention of elite-level strength and conditioning coaches. He also came out of the Yankees system, and has a wife and kids. Coaches won't have any character concerns with him.

His poise in the pocket, ability to read the defense and go through check downs, and his short area accuracy and deep touch is really what NFL scout's like

.
Weaknesses:
Only one year as a starter, will need to build upon his Junior campaign. Will be 28 in October, which will make him a 29 year old rookie who won't hit his prime until the age of 32 or 33. While he has first round tools it will show and Andrew Luck-esque grasp of an offense to make him an elite prospect on team's boards. That will be hard to prove running a spread offense and losing both his starting tailback who was an elite pass blocker in blitz pick-up, and his offensive coordinator.
He needs to show he has a stronger arm (a shoulder injury ended his baseball career) and that he can develop his footwork. Was his production a bi-product of being more mature than the talent around him?
Impression:
To me he is an elite level prospect, best in the Big 12. However his age will plague him and it is what sinks him in my rankings. If he had chosen football out of high school I think he could have been a special talent. He will forever be a spot-starter/back-up and possibly have to test the CFL/AFL waters because NFL teams cannot build a franchise around him. There are exceptions (Kurt Warner) and I wouldn't bet against him. However I think a lot of NFL teams will.
NFL Comparison: Kevin Kolb
Draft Status: Should be a 1st round pick, will probably go 4-7. Possibility he goes 2-3 but John Beck and Chris Weinke have set a bad precedent before him (Although he is a far superior prospect to the latter two).