Ryan Fitzpatrick – #14 - (23 TD's 15 INT 3,000 Yards)
The Buffalo Bills have a solid presence a top their depth chart for the first time since Drew Bledsoe. An unquestionable leader of men who may not have the greatest arm, or the prototypical NFL skill set but isn't afraid to stick the football into tight openings and get the ball into the end zone. Fitzpatrick might not be the guy the Buffalo Bills can win a Super Bowl with but it isn't out of the realm of possibility he could lead them to, and win playoff games. That is why Buddy Nix and Co. decided to pass on a QB in this past April's draft, focusing instead on re-building the defense.
Levi Brown - #10 – 1 INT, 24 yards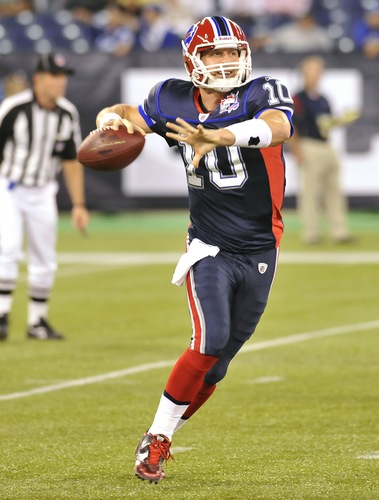 It would appear Buddy Nix doesn't have much faith in this young signal caller. Although this big armed, small school system QB with prototypical NFL build flashed the strongest arm in last year's training camp he was cut following a lackluster pre-season and not offered a spot on the practice squad. He showed his immaturity calling out the team via his twitter but was eventually re-signed to the active roster when Trent Edwards was released. He saw action in the season finale against the Jets, looking solid on his first two throws making completions for a total of 24 yards before throwing an ugly interception on his final attempt.
Outlook…
Look for the Bills to bring in a veteran signal caller who can step in for an injured Fitzpatrick and win games. Buddy Nix has also confirmed a 4th quarterback will be added to the roster as a "camp arm" to compete with Brown. The 4th QB added will be an Indicator of the Bills confidence in Brown. If a bigger (if you can say that about an UDFA) name like Devlin or Weber are added it shows the Bills are not sold on Levi as their "project" and he will have to earn his keep. If a lesser name like Trevor Vittatoe is added it would indicate a confidence in Brown as a player like that would not make an NFL roster, at least not in 2012.
5 Free Agents the Bills should pursue…
1.)
Bruce Gradkowski

- The injury plagued QB is much like Fitz, he doesn't offer up a true NFL skill set but he just flat out wins games. Would be a very capable back-up.
2.)
Drew Stanton – This player is just hitting is peak. He led Detroit on a great end of the season run and might just be the one guy who could push Fitz to be the Bills 2012 starter.
3.)
Tyler Thigpen – Played under Gailey in KC with success. Will probably take a trade with division rival Mia since he is a RFA, but many believe this is already a done deal.
4.)
Tarvaris Jackson – An athletic QB who has played well in the past, but just hasn't put it all together. More of a project than capable back-up.
5.)
Dennis Dixon – As a RFA Dixon is a swing for the fences type player as the Bills would most likely have to invest a lot to get him, and make him a part of their future plans. With a deep 2012 crop of QB's that looks unlikely.
Other options…
Luke McCown
Undrafted free agents…
1.)
Pat Devlin – Deleware -
Lacks a great arm and as of now it's not good enough to make all the throws. But, he does a great job working his eyes and going through his progressions and is accurate with the football. In the right system and environment could develop with some time if he continues to strength his wrist/arm.
2.)
Adam Weber – Minnesota – Has idela NFL size and an NFL arm but never really put it all together in college. This guy could be the front runner at One Bills Drive as the Bills closely monitored Minnesota's Pro Day. I thought he would have been the pick at the end of round 7, and he very well could have been with no lockout had Buffalo believed they could have gotten Jasper right away in UDFA.
3.)
Adam Froman – Lousville – A relative unknown, never started a full season but had impressive numbers. Wowed scouts at his pro-day. He has physical skills, sound fundamentals and passing talent that make him to good to pass up as a flyer prospect.
4.)
Trevor Vittatoe – UTEP - A natural thrower of the football who can make all the throws. However, is still learning how to become a quarterback and his limited mobility this year displayed just how far he has to come to be an efficient pocket passer.
5.)
Scott Tolzien – Wisconsin -
A tough college quarterback who has the grit and toughness to help move the chains from time to time, but isn't a legit NFL quarterback prospect.
6.)
Ben Chapell – Indiana
8.)
Jerrod Johnson – Texas A&M
11.)
Mike Hartline – Kentucky
12.)
Taylor Potts – Texas Tech
14.)
Ryan Colburn – Fresno St.
Prediction: Tyler Thigpen and Adam Weber. (Fitz – Thigpen – Brown or Weber)
What I would do: Bruce Gradkowski and Adam Froman (Fitz – Gradkowski - Brown/Froman to PS)
Hit the comment section below with your thoughts!